The AVB Marketing Difference
our members own the agency
branding, products, promotions
solutions for all digital marketing
Let's Talk About Your Business
Becoming A Digital First Retailer
As a digital-first retailer, you must keep in mind the journeys a customer travels before making their buying decision. Once armed with that knowledge, you can begin executing on digital plans to be present in as many digital locations as possible to remain relevant and, ultimately, win the sale.
What ways are you driving traffic to your site?
Fully automate some of your digital efforts with our Social, Email, Content & SMS programs – exclusive for our Members. 
Marketing Technology Solutions
We Have A Solution For You.
People look for information about a category's products and brands, and then weigh all the options. This equates to two different mental modes in the Messy Middle: Exploration, an expansive activity, and Evaluation, a reductive activity.
Whatever a person is doing, across a huge array of online sources, such as search engines, social media, aggregators, and review websites, can be classified into one of these two mental modes.
At AVB Marketing, we are focused on placing your business in the Messy Middle creating maximum opportunities for sales.
Google Suite Of Tactics

Social Media Ads 

Digital Radio

Over-The-Top TV
49% of consumers would like to receive promotional emails from their favorite brands.
The removal of third-party cookies changes the game for the entire industry. And that's not a bad thing. The death of these cookies is an opportunity for brands to lean on first-party data and build authentic, trust-centric relationships with customers.
And that's where email marketing comes into play.
Email marketing adds value to the customer by offering real-time promotion as well as reminding them that you are there to help when the time is right.
As low as $150/mo
57% of consumers will follow a brand to learn about new products or services.
Automate your Facebook & Instagram feed with brand-centric and lifestyle-driven content. Our dynamic, platform-focused content is designed to inspire consumers during their purchase journey.
Brand Posts
You pick 3 brands to highlight, we write engaging content to help you sell those brands. Brand posts are 50% product-centered and 50% lifestyle-centered.
Product-centered post: It's like having a wine cellar in your refrigerator! The new Bosch Refreshment Center refrigerator features a drawer with pre-programmed settings to take the guesswork out of optimal temperature settings. #WinerLover #Bosch
Lifestyle-centered post: La-Z-Boy sectionals are perfect for a family movie night. We'll provide the couch. You provide the popcorn. #MovieNight #FamilyTime
*Available on All Plans
49% of consumers would like to receive promotional emails from their favorite brands.
Capturing first-party data is critical for a Digital-First Retailer. SMS Marketing allows for a one-to-many conversation to occur between you and your customers, while not taking any of your time. Why? It's automated. Set, forget, and win!
What's more, text-based marketing pairs perfectly with social, email, digital radio, even in-store marketing to drive engagement, and ultimately sales.
As low as $449/mo
Consumers want to buy from experts. A blog builds your reputation as an expert by making you a thought leader in your industry.
Blogging is an inexpensive way for your business to drive traffic to your site, enhance inbound marketing efforts, and attract more prospective customers.
$150/mo
Learn More about our Monthly Blogs here. 
Advertising Solutions That Work
Get in front of clients when they're searching for businesses like yours.
What's Available? 
Google Search
Google Display 
Google Discovery 
Google Local
Youtube
Your customers are looking for you. Be there! 
27% of internet users say they find new businesses through paid social ads.
When it comes to advertising, it's vital you're in the right place, in front of the right people, at the right time. Our ads help you target eager consumers, driving them to your website to make purchases.
Facebook – 
Instagram –
Pinterest – 
Learn more about social media advertising here.
84% of people say that they've been convinced to buy a product or service by watching a brand's video.
Video & audio streaming have reached peak levels. This exploding audience growth is an opportunity for you to expand your Brand reach beyond the standard digital & traditional ad channels
Learn more about Streaming advertising here.
Full Transparency in reporting
Get Real Reports. In Real Time.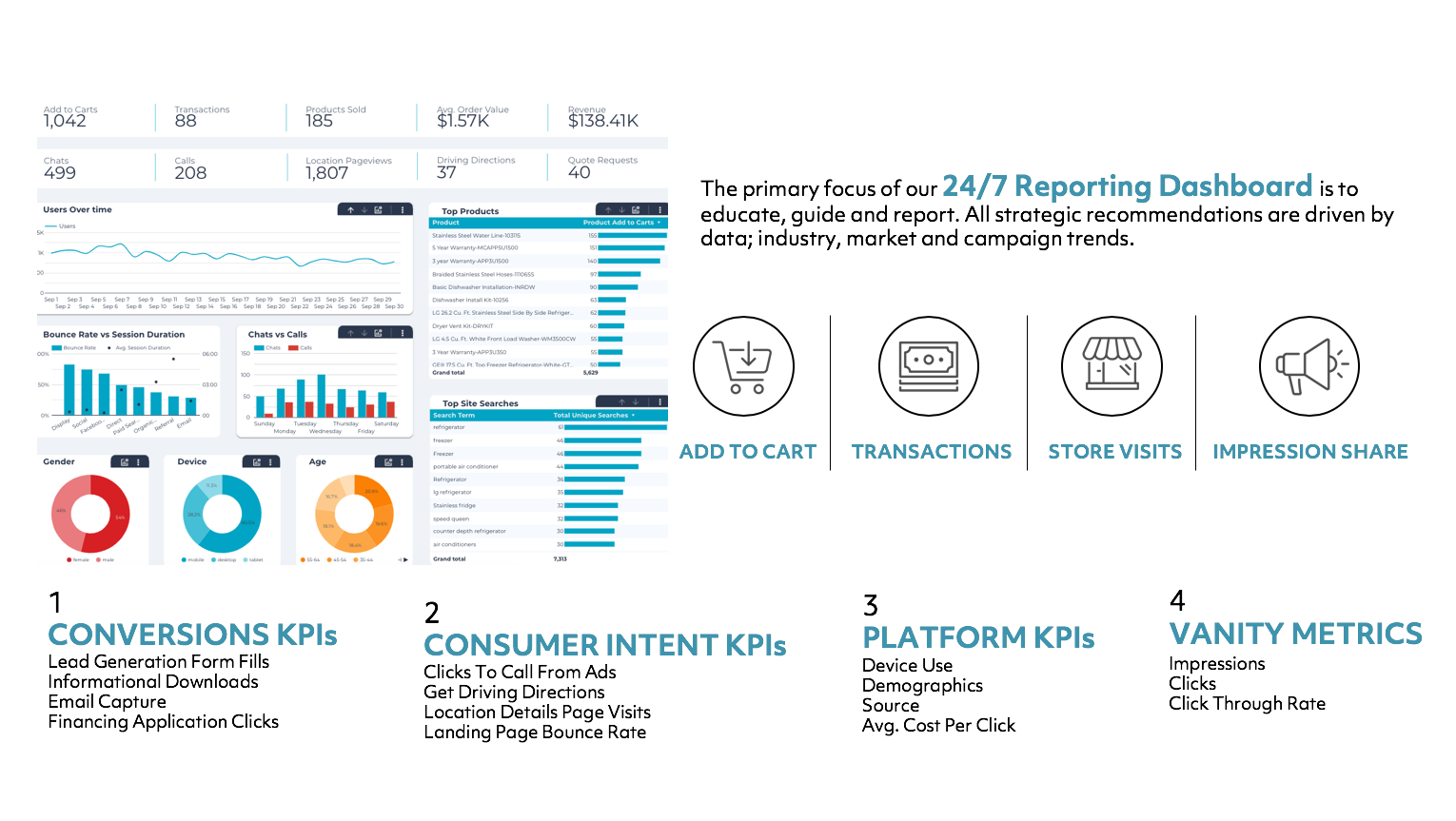 We focus primarily on conversions and actions that are taken after a customer clicks: like how many phone calls, chats, driving directions, etc. This is shared transparently on reporting calls with your account team. Check it out.
Create Your Own Modular Program
Not only are our packages modular, but we can adjust the tactical approach based on your need at any given time. Remember, your entire investment can be potentially covered by co-op!