LG Digital Co-Op Advertising Packages
ARE YOU LEAVING MONEY ON THE TABLE?
Sign-up and run digital co-op advertising campaigns for LG Appliances and LG will match your spending. Campaigns are turnkey, affordable and effective. Your buy-in may be less or FREE when you claim MDF and apply it to your campaign spending.
Choose a level and sign up today!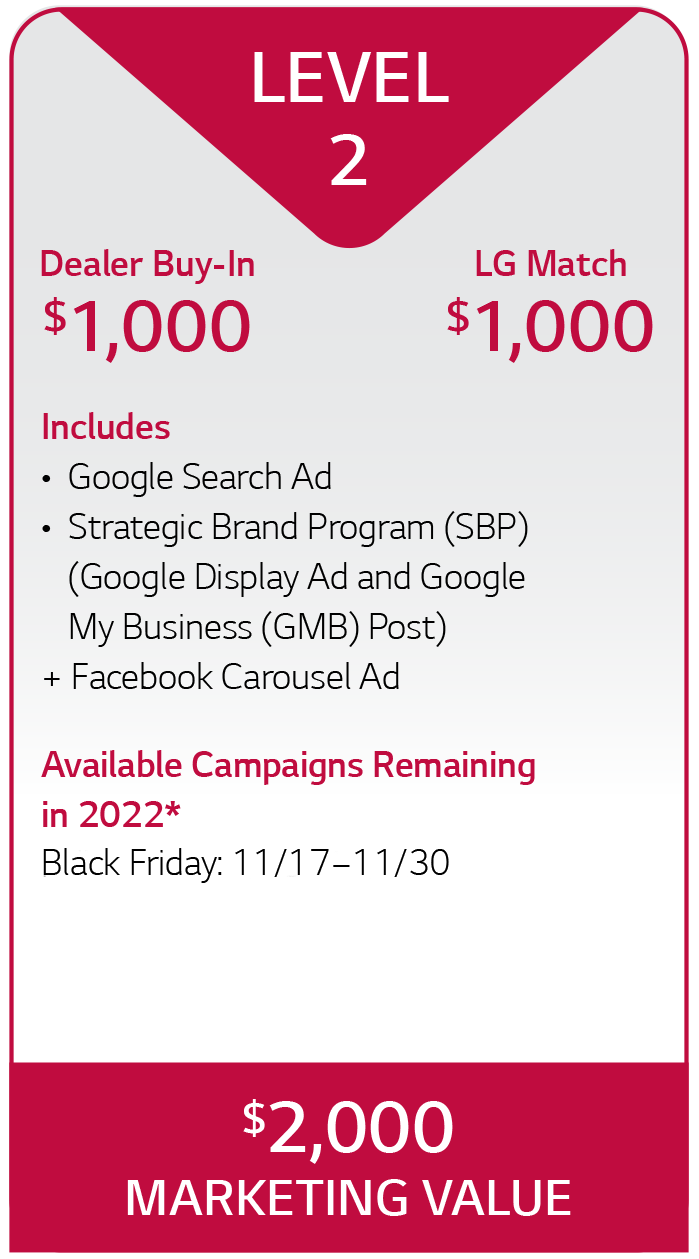 WHICH LEVEL IS RIGHT FOR MY BUSINESS?
The following example illustrates how MDF funds can cover your costs for the Digital Co-op Advertising Program.
Total LG Sales: $750,000
Earned MDF: 3.4%
Annual MDF Funds Earned: $25,500
% of MDF to Allocate to Co-op Program: 15%
Funds Available for Co-op Program: $3,825.00
Co-op Program Costs for Remainder of 2022
Level 1: $750 per promo x3 promo periods: $2,250
Level 2: $1,000 per promo x3 promo periods: $3,000
Level 3: $1,500 per promo x3 promo periods: $4,500
GETTING STARTED IS AS EASY AS 1-2-3!
CHOOSE YOUR LEVEL
All campaigns are turn-key! We'll build everything out, target your local shoppers and drive leads to your website.

SIGN UP AND PAY THE DEALER BUY-IN COST
GET REIMBURSED FOR YOUR BUY-IN COST
AVB will submit your reimbursement on your behalf to LG
Sign Up Now for Your LG Co-Op Packages!
Or text our Strategists at (916) 260-2026 for more information!