How to Give AVBM Access to Your Facebook Account
In order for AVBM to publish posts on your behalf and/or run ads for you, you must grant us partner and admin access. Help us take your social media to the next level by following the steps below.
Partner Access
AVBM should have sent a request for partner access to your Facebook business page. Please confirm this has happened before proceeding. 
Step 1a
Log into your business manager at business.facebook.com.
If you do not have a Facebook business account, skip to step 1b. 
Step 2a
Go to Business Settings from your left sidebar. Then, click Requests.
Step 3a
Click on the Received tab. You should see that AVBM has requested access to your Page here. 
If for some reason you do not see a request from AVBM here, try skipping to step 1b.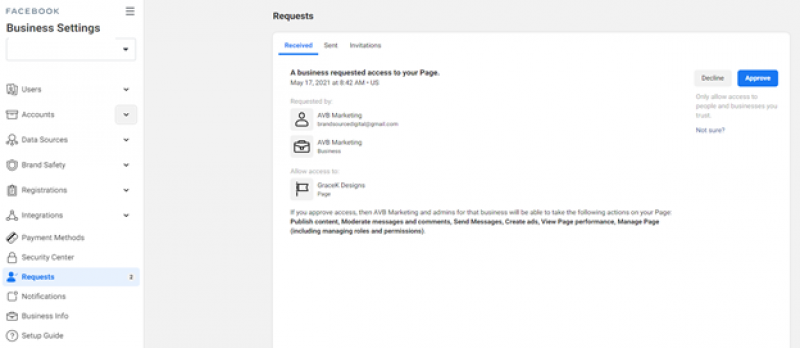 Step 5a
To confirm it worked, go to Users, then Partners and you should see AVBM listed there. You are now done with Part 1. Please skip to Part 2: Admin Access.
Step 2b
Go to your business page.
Step 3b
On the left side, click Settings, then User Roles
Step 4b
Look for Pending Partner Requests and you'll see a request from AVBM. 
Step 5b
Click Respond to Request and follow the prompts (you will need to re-input your password).
Step 6b
You are now done with Part 1. Proceed to Part 2: Admin Access.
Admin Access
In order for AVBM to post on your behalf, you must grant a personal Facebook account admin access. For AVBM, that account is under John White.  
Step 2
Go to your Facebook Business Page. 
Step 3
On the left, click Settings, then Page Roles. 
Step 4
Under Assign a New Page Role, change the dropdown menu to say Admin.
Step 5
Type in "john white avb" and look for the account with the following image:
Step 7
It should now say "Request Pending." Please let your account executive know you have completed this step so we can accept the request to be an admin of your page.